Lightroom Classic is slow! How can I speed up my workflow?
Follow
One of the most efficient ways to speed up your workflow quickly is to use Smart Previews when editing:

Instead of working with the original RAW photo files themselves, Adobe gives you the option to always use Smart Previews, even when the original files are available (This will still apply edits to the the full-size images, and will not compromise your files in any way).

Simply go to Edit >Preferences (Windows) or Lightroom > Preferences (macOS):

Select the Performance tab, and in the Develop section check the box that says Use Smart Previews Instead Of Originals For Image Editing.

Now, this is only a recommendation for speeding up the editing process!
Additionally, an Increase Cache Size in Classic can be all it takes to see a noticeable boost in speed. By default the Cache is set to 1-5GB, and Adobe recommends pushing this to as high as 20GB or more. To do so:
Navigate to Lightroom > Preferences (Mac OS) or Edit > Preferences (Windows). Click on the Performance tab. Under the Camera Raw Cache Settings settings header, experiment with a Maximum Size of 10GB or more: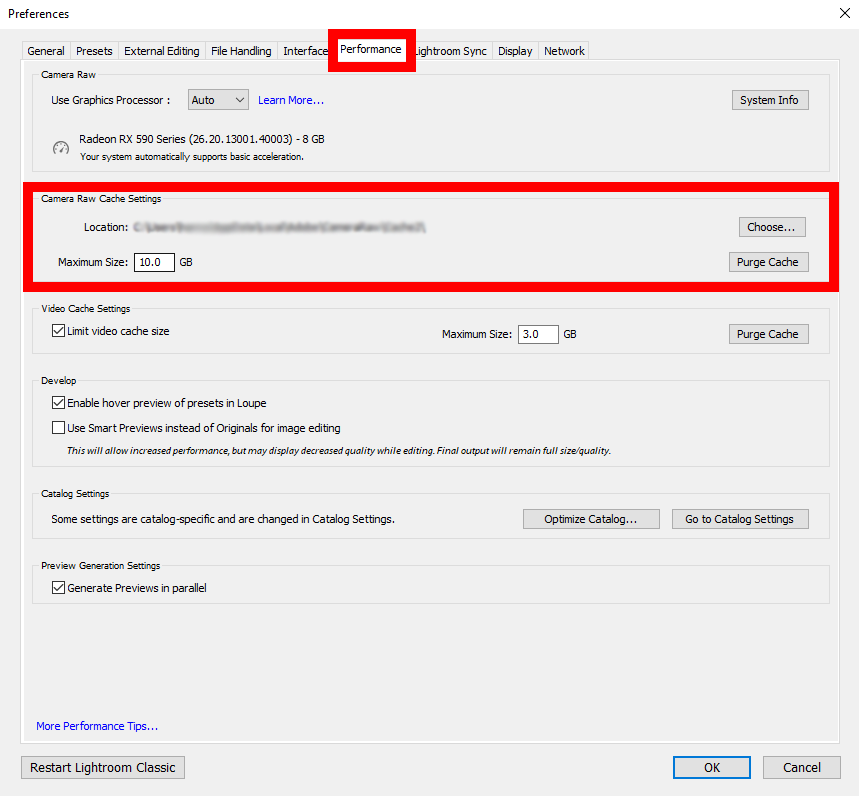 Under your Camera Raw Cache settings, you'll also want to make sure that this Cache is stored on a Fast storage medium, or your fastest Hard Disk Drive. If you have an SSD, store them here. (More, if you haven't made sure that Lightroom is running from your SSD, you may want to heavily consider it.)
For complete optimization of Lightroom, we highly recommend working Adobe's official optimization recommendations HERE.