ColorMade - How to Use Your Presets
Follow
These include: Sand & Stone, Novella, Portraits, Shades Of Winter, Autumn Spice, Lumena, Copper, Street Chic, Chateau, Warm Petals, Venus, Solace, Powder Pink, Royal Gardens, Muse, Ginger Swirl, Sweetbrier, Wild Palms, Frosted Sage, Indigo Slate, and Plum Slate
Begin by properly setting the exposure and white balance of your photo and then click through the main color presets until you are happy with the overall results. From here, experiment with the additional tools to further refine your photo.
1. Begin by choosing an exposure preset or manually adjusting the exposure of your image.
3. Choose a base color preset.
4. Apply additional tools if desired.
5. Increase or reduce grain if desired.
6. Apply additional tools if desired.
FINAL
When it comes to developing a speedy Lightroom workflow, our experience has shown that a layered preset based system is the most efficient system. For The Lensman Toolkit, we've put together a huge set of speed-workflow tools that will not only have you editing your photos faster, but also editing them in new, unique ways. Divided into 17 different categories, this collection of 168 presets offers extreme editing flexibility while working exclusively within the left-side 'Presets' panel. Designed for maximum speed & efficiency, The Lensman Toolkit has been built to follow a very convenient top-to-bottom workflow while only including layered presets that affect a single setting at a time. Just start your photo at the very first preset and then work your way down to the last, until completion.
Within the Lensman Toolkit you will find that the presets laid out within their respective categories, beginning with 'Treatment' and ending with 'Dehaze' (See photo below for example). All of these categories follow the same workflow as the main Develop panel within Lightroom, so we recommend that you follow the same top-to-bottom workflow that you normally would when working within the Develop panel.
To begin, select your preferred treatment, either black & white or color, from the 'Treatment' category and then move on to the 'Temperature' category. From there, continue down into the 'Exposure' category and then on to the next. Continue doing so through the toolkit while selecting the presets that work best for your photo. As you work your way down the categories, feel free to jump back up to higher categories if further adjustments are needed, and then just return to where you previously left off.
Important note: We built The Lensman Toolkit to either be used as a full editing workflow kit on it's own or in conjunction with our main color preset collections. If you are using the toolkit along with any of our other preset collections, please make sure to apply the main color preset before running through the Lensman Toolkit presets. If you begin your edit using the Lensman Toolkit then all of your adjustments may be over-written once you apply a main color preset.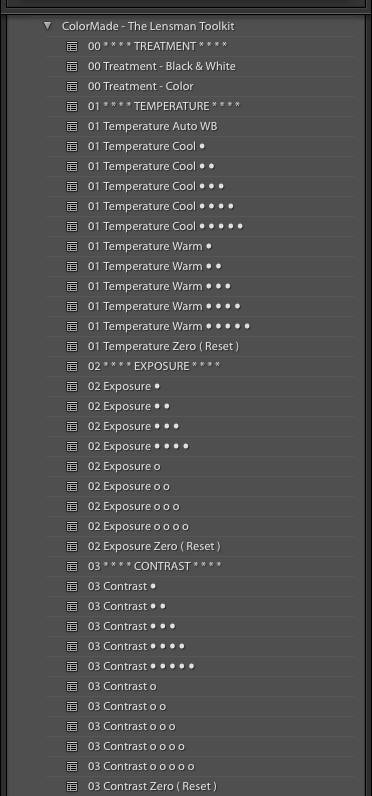 The Color Wash Collection
The Color Wash Collection is divided into two separate folders, The Color Collection and The Black & White Collection. These split-toned and duo-toned color filters have been built to only affect the split-toning tools and the color/black & white treatment options. We include multiple presets for each color base for increasing and decreasing the levels of intensity, which are noted by the number of bullet points that follow the preset names. (See photo below)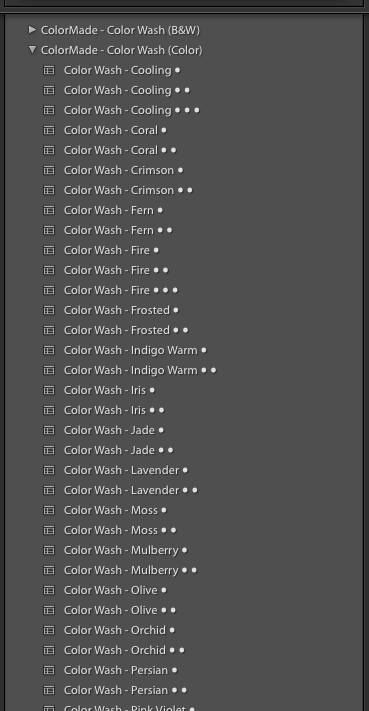 The 'B&W' folder contains presets that apply "duo-tone" looks by converting the photo to black & white and then applying a color filter overlay on top. These can be used to create beautifully artistic photo effects for any style of photography.
The presets within the 'Color' folder are called "split-tone" presets and act as unique color filters that can be overlaid on top of any existing edit to further alter and/or enhance the coloring of your image. (See photo below)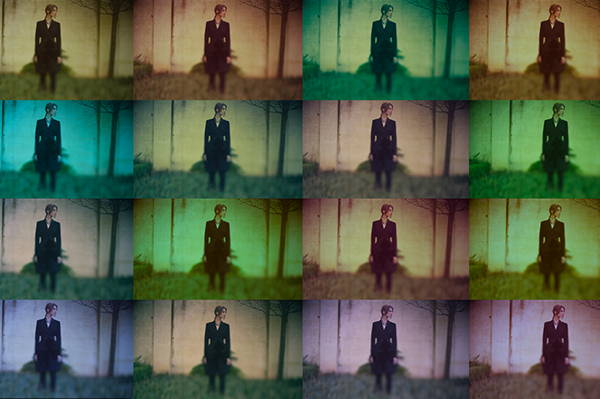 Color Wash (Color) Preview
Please Note: The Color Wash collection was built to work in conjunction with our main color preset collections and also as an extension to any other photo editing workflow. Although these filters can be applied at the beginning of your photo editing process or added later over existing edits, we do advise that if you are using these filters along with any of the other ColorMade preset collections then it is best to begin your edit by applying the looks from the other sets before applying the Color Wash filters. If you begin your edit using the Color Wash filters then those applied settings may be over-written once a main color preset is applied.