Luxe Actions Walk-through - Mega Guide to Organization & Use
Follow
At Luxe we value support, education, and flexible custom workflows to help your meet your goals! Our Actions collections support these values with a standardized flexible toolkit and core collection actions that work together seamlessly to deliver on thematic or stylistic edits. Our actions feature pop-up instructions for multi-step processes, and are organized in the layer panel for maximum flexibility. You can also reach our support team at support@theluxelens.com for 1:1 guidance and custom recommendations 7 days a week!
Meet your Luxe Actions
This guide will focus on outlining the action workflow unique to Luxe, defining terms, and discussing functionality specific to certain types of action so you can better understand what's included in your collection(s) and why!
We offer a general action use guide HERE and a general action modification guide HERE as well!
To begin, let's talk the Luxe Action toolkit!
Our Luxe Action Toolkit is broken up across the "QUICK ITEMS", "GENERAL WORKFLOW", "GRAIN", and "FINAL SHARPENING" sections for an easy-to-navigate workflow of all the little things you may need along the way. Some of these will take on slightly different naming or a few additional options respective to the collection, for example in the Brixton Film Actions collection "General Workflow" is referred to as "Film Tools" and includes some subtle variations specific to filmic editing needs! Here we'll break down what these tools can do for your work and you'll see why they're standard for all of our collections!

Quick Items - Getting your layer panel ready for action!

Duplicate Image allows you to quickly copy your image to another layer, so that the copy will be selected when you go to play your actions or make any changes. This is great for when you know an action will carry out many steps and want to preserve the original for quick comparison without having to undo you work.
Flatten All Layers turns multiple working layers into a single compressed layer containing all of your changes, so that when you play an action it affects all parts of your target image, and not just a single layer of changes you may have made on upper layers.
Flatten All Layers To New Layer If you want everything you've done compressed to a single layer, but don't want to lose anything you did on previous layers for later reference, you can always flatten all changes to a New Layer that sits above all previous layers.
General Workflow - Basic image correction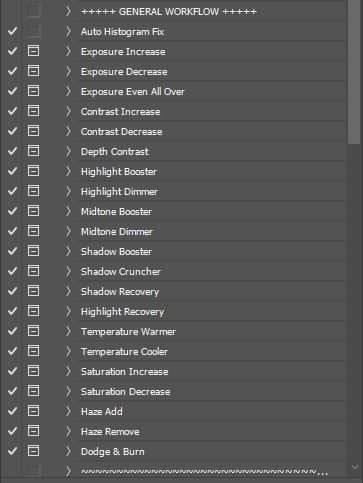 Auto Histogram Fix - Play this action to balance out extreme highs and lows in your image!
Exposure Increase - Increases overall brightness
Exposure Decrease - Decreases overall brightness
Exposure Even All Over - Creates an even brightness across your entire image
Contrast Increase - Increases the overall tonal range in your photo, making the lights brighter and the darks darker.
Contrast Decrease - Decreases the overall tonal range in your photo between brights and darks.
Depth Contrast - Adds a 3d depth of contrast that boosts dimensionality.
Highlight Booster - Increases highlights, brightening the lighter aspects of your image.
Highlight Dimmer - Decreases highlights, crushing the lighter aspects of your image.
Shadow Booster - Brings shadows up, to brighten the darker areas of your image.
Shadow Cruncher - Brings shadows down, to darken the shadowy areas of your image.
Shadow Recovery - Brings up dark areas of your image to recover lost details.
Highlight Recovery - Crushes or dims highlights to recover lost details.
Temperature Warmer - Corrects for images that are too cool, or adds a stylistic warmth to your image.
Temperature Cooler - Corrects for images that are too warm, or adds a stylistic cool to your image.
Saturation Increase - Increases color saturation across your image.
Saturation Decrease - Decreases color saturation across your image.
Haze Add - Creates a sun or film haze look across your image using the tone curve.
Haze Remove - Removes sun or film haze from your image using the tone curve.
Dodge & Burn - Dodge & Burn allows you to make localized exposure changes by painting with a brush over pre-created dodge and burn layers. (This action includes pop-up instructions for application).
Grain - These actions apply various levels of stylistic or film grain to your image.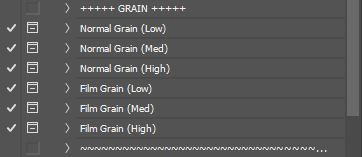 Final Sharpening - Applies professional sharpening to your overall image.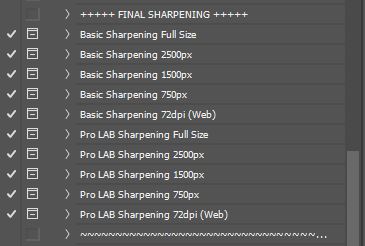 Now, let's talk the collection actions, or the "core" actions which make up the base and purpose of each collection!
Core Collection Actions - These actions are the core of the collection and will apply thematic or stylistic changes to your image. These are the actions that are unique to collection. You'll find your collection actions nestled between the General Workflow & Grain sections of the toolkit.
Some of the types of actions you'll see as Core Collection Actions include:
Develop Filters/Color Bases/Photo Styles/ Looks - While the naming convention varies across certain stylistic collections, these are the options which provide a full color or black and white edit that changes several aspects of your image for a full stylistic "look". These can also work as a base for more in-depth or layered edits with overlays, filters, brushes, and further adjustments.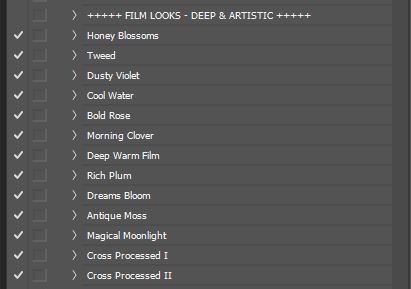 Example of "Looks" or base edits from our Film Actions collection
Overlays/Filters/Washes - The actions typically refer to our color washes that are great for layering over your edits to tint or further enhance the style or effect you are aiming for.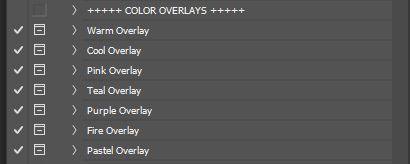 Color "Overlays" example from our Savannah Gardens collection
Extras/Effects Actions - These actions will typically re-create natural or paint on stylized fantastical or creative elements. These include dream-like effects, Light Leaks, Sunburst Overlays, Snow, and Image-to-Painting options depending on the collection.

Snow "Effects" example from the Lighthouse Jack Frost collection
Brush/Local Adjustment Actions - These indicate localized brush-on effects that you will apply over a mask with a soft white or black brush for more dramatic hands-on editing. Really rewarding and especially useful for cosmetic retouching and dreamy painterly or click-in looks. Most of our brush actions include "Brush:" in the title for clarity.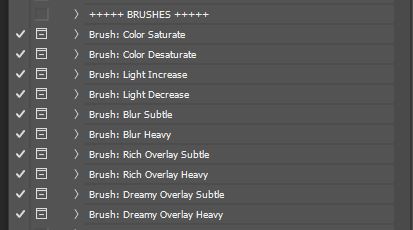 "Brushes" example from our Painterly Pastels collection
Unlike the toolkit, our Core Collection Actions will differ greatly from collection to collection - as, again, these are the actions that make up the focus of each collection!
More, where some creative collections will have a variety of different sorts of actions that make up their core, some collections will focus primarily on a specific type of action. For example, our Perfect Portraits collection for professional portrait retouching focuses primarily on brush or local adjustment actions. Here's an example of what that looks like in Photoshop: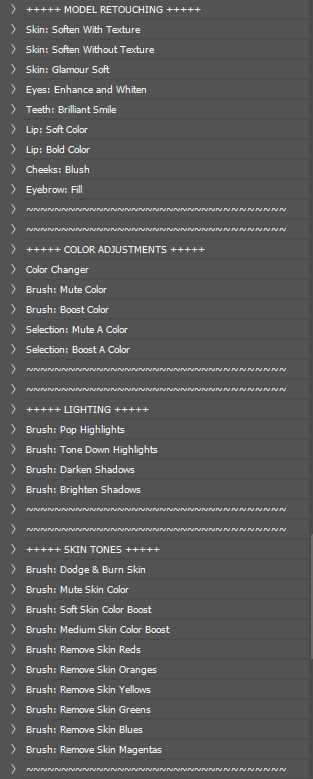 Watch Instagram Reels? You can watch these in action here & here!
Use Your Luxe Actions
If you are new to actions, or have only ever used one-click presets, this may seem a bit overwhelming at first. Especially since, unlike presets, actions will allow you to adjust where and how much an edit will affect your image. With opacity, blending, and masking you are able to take ultimate control! And while we do eliminate professional editing guesswork to allow you to "play" your way through many complex processes for a full edit or adjustment in just a click of the play button, there is something extra special about creating your own "recipe" or uniquely-you workflow, with actions.
So, our best tip? Use them, experiment, and play around with layering, blending, and modifying your actions. Don't be afraid to play across multiple collections, or stack multiple effects. Actions can be so fun and infinitely flexible- allowing for pixel-level control over every effect or change. Check out our How to Use video guides HERE for various collections to get a feel for what a general action workflow looks like, and keep an eye on our social media shares for inspo!
In this before & after example, our photography partner, Kade Bailey (@kadebaileyphotos), uses our Perfect Portraits Action set to "add blush, sharpen and brighten eyes, smooth skin" and "the haze action on the background to make her [subject] pop" in a workflow totally tailored to this stunning portrait: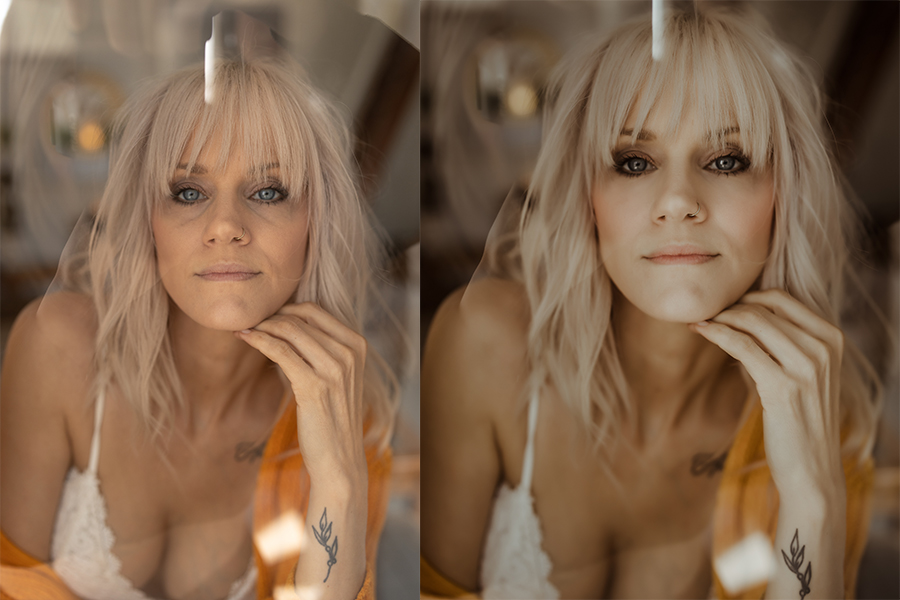 We believe that you deserve a workflow as unique as your vision, and tools that inspire! We hope you find your magic with Luxe Actions!