How to change the Strength/Intensity of a Preset using the "Amount" Slider
Follow
The Amount Slider is a long awaited feature that allows you to adjust the strength or intensity of an applied preset! So if you ever loved a preset but thought it was too strong or weak for your purposes, you can now adjust this with a super simple slider!

This is especially great for partially compatible presets which may be only giving you a soft version of your favorite edits, as you can now boost the effect with a simple slider.
The Amount Slider will work for Photo or video and appears below the applied preset (on LR CC Desktop) or as accessed via the preset thumbnail (on LR CC Mobile). This slider also appears in Lightroom Classic at the top of your Preset Panel!
Lightroom (CC) for desktop:
Lightroom Classic: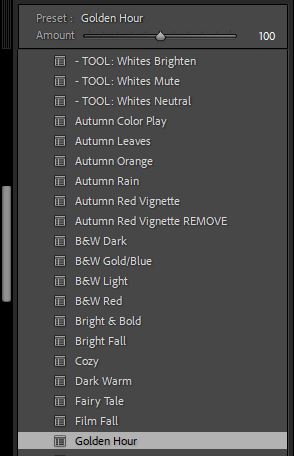 Lightroom (CC) for Mobile:
You can access the Amount Slider by clicking on the photo thumbnail preview of your applied preset (see the new slider icon over the preview for the selected "Fall Forest" preset?):