Install Lightroom presets in Lightroom CC 2015
Follow
STEP 1A: USE OUR AUTOMATED PRESET INSTALLER
Using our Lightroom preset installer is the easiest way to complete your installation, with no further steps needed.
The auto-installer is a quick click-to-run program. You will not import the auto-installer as a preset file, and the auto-installer will NOT create a .zip file. You simply run the .dmg (Mac) or .exe (Windows) installer the same way you would any other software installer, and restart your software. Running into issues with the auto-installer? Click HERE for troubleshooting tips!
If this doesn't work for you, or if you have purchased a collection that doesn't offer an auto-installer, simply proceed to STEP 1B for manual installation.
STEP 1B. INSTALL YOUR PRESETS MANUALLY
With Lightroom open, go to:
If you have a PC: Edit > Preferences. If you have a MAC: Lightroom > Preferences.
This will open a new window. In this window, you will see a tab labeled "store presets with this catalog". Make sure this is unchecked.
Go to the "Presets" tab and click on the "Show Lightroom Presets Folder" button. This will open Adobe folders on your computer.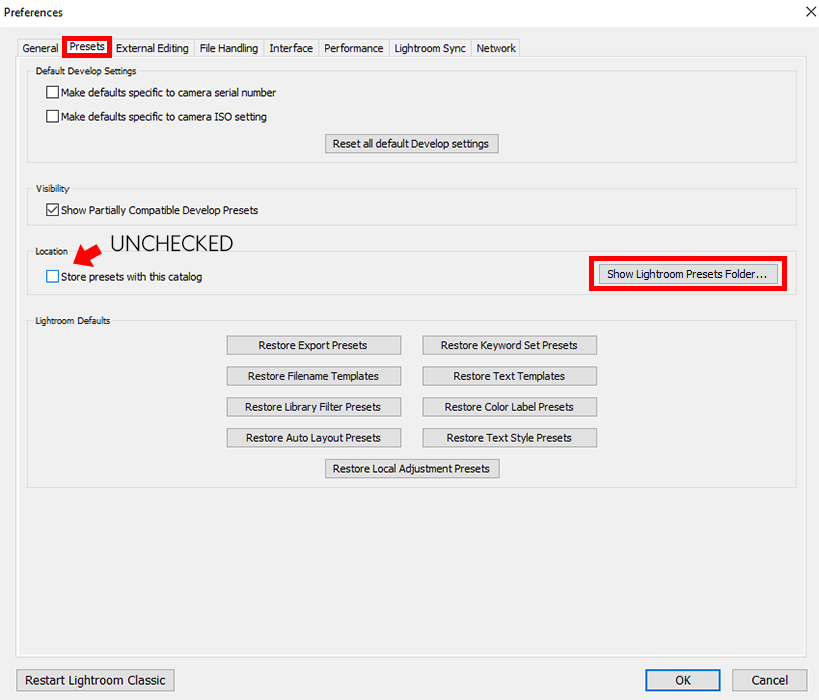 Click to open the "Lightroom" folder. Then click to open the "Develop Presets" folder.
STEP 2: PASTE IN THE PRESETS
If you have not installed any presets in the past, you will only see a folder called "user presets". Do not install your presets in the "user presets" folder. If you have installed other presets in the past, you will see them listed in the "develop presets" folder. Copy the presets that you downloaded in step 2 and paste them into the "develop presets" folder. This includes tool and layer presets, but not brushes.

STEP 3: CLOSE AND RE-OPEN LIGHTROOM
Now, completely close Lightroom. When you re-open Lightroom, your presets will be installed.